Treyger, Deutsch and Officials Push For Boardwalk Landmark Status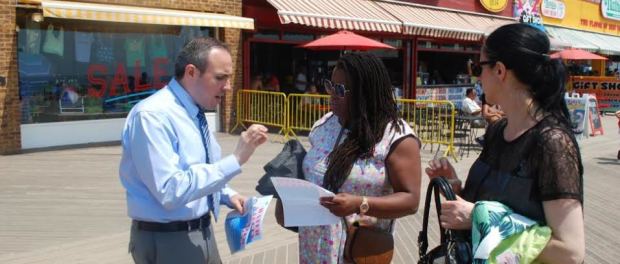 Momentum builds after Treyger and Deutsch meet with officials to urge passage of landmark status for iconic structure
NEW YORK – A new resolution introduced by Council Member Mark Treyger, Co-Chair of the Council's Brooklyn Delegation and Chair of the Committee on Recovery and Resiliency, and Council Member Chaim Deutsch calls on the City's Landmarks Preservation Commission to designate Coney Island's iconic Riegelmann Boardwalk as a scenic landmark. Forty-nine of the Council's fifty active members signed on to the resolution, a sign of nearly unanimous support across the city. Public Advocate Letitia James added her name to the resolution, as well.
Aside from Treyger, Deutsch, and James, the complete list of co-sponsors includes Brooklyn Council Members Inez Barron, Robert Cornegy, Laurie Cumbo, Rafael Espinal, Mathieu Eugene, Vincent J. Gentile, David G. Greenfield, Brad Lander, Stephen Levin, Alan Maisel, Darlene Mealy, Carlos Menchaca, Antonio Reynoso, Jumaane D. Williams; Manhattan Council Members Margaret Chin, Inez E. Dickens, Daniel R. Garodnick, Corey Johnson, Ben Kallos, Mark Levine, Rosie Mendez, Ydanis Rodriguez, Helen Rosenthal; Queens Council Members Costa Constantinides, Elizabeth Crowley, Daniel Dromm, Julissa Ferreras, Barry Grodenchik, Rory Lancman, Karen Koslowitz, Peter Koo, I. Daneek Miller, Donovan Richards, Eric Ulrich, Paul Vallone, Jimmy Van Bramer, Ruben Wills; Bronx Council Members Fernando Cabrera, Andrew Cohen, Vanessa L. Gibson, Annabel Palma, Andy King, James Vacca, Ritchie Torres; and Staten Island Council Members Joe Borelli, Steven Matteo and Deborah Rose.
Designating the Boardwalk as a landmark would officially recognize the structure as one of Southern Brooklyn's historic locations, but would also prevent more of its traditional wooden planks from being replaced with concrete and plastic without a public review process. Currently, the City needs no approval to make such changes, and sections of the Boardwalk have already been replaced, drastically altering its character.
Treyger, with the help of community activist and Coney Island historian Charles Denson, originally filed an application with the LPC to landmark the Boardwalk on December 2nd, 2014. Treyger, Denson, and neighboring Council Member Deutsch met with Landmarks Preservation Commission officials last year urging them to consider the historical context under which the Boardwalk was built.
Since it opened in 1923, the Boardwalk has become one of New York's most beloved structures. Originally developed as the centerpiece of Brooklyn Borough President Edward Riegelmann's plan to beautify and improve public access to Coney Island's beaches, the Boardwalk has long been known as an international tourist attraction that also ties together the various attractions, businesses, and residential areas of Coney Island and Brighton Beach.
"The Boardwalk is one of our community's most precious assets," said Council Member Treyger. "For nearly a century, the Boardwalk's 2.7 mile span has welcomed millions of people, locals and tourists alike. Whether it is parents pushing strollers, seniors socializing, joggers exercising, sightseers photographing, or even couples taking romantic walks along its classic wooden planks, the Boardwalk is and has been a cultural and social touchstone for all residents of Southern Brooklyn, as well as its global audience.
"This beloved local treasure deserves official status so that its defining structural and aesthetic characteristics are preserved and protected. The landmarking process in the city must take into account all the city's neighborhoods. Landmarking across the city needs to be an equitable process, because Southern Brooklyn has a cultural and historic tradition, too. We have already lost notable historic structures in our community to development because of our city's sluggish landmarking system. We must ensure that what remains of our area's past stays intact."
"The Riegelmann Boardwalk is an icon of Southern Brooklyn since its opening in 1923. Tourists from all over the world travel to our neighborhood to visit Coney Island and its famous boardwalk," said Council Member Chaim Deutsch. "The Landmarks Preservation Commission needs to recognize the cultural significance of the boardwalk and preserve its character for future generations, and for the millions of visitors that enjoy it each year. In addition to granting the boardwalk the historical distinction that it has earned, designating it as a landmark will also prevent any further altering of its nature. The Riegelmann Boardwalk is Southern Brooklyn's first line of defense against floodwaters, and keeping it as a wooden structure is important for our resiliency. Our wooden boardwalk has survived many storms, including Hurricane Sandy, with minimal or no damage. I join with Councilman Treyger and my colleagues in strongly urging the Landmarks Preservation Commission to declare our boardwalk as the landmark that we already know it to be."
"The Riegelmann Boardwalk is an indelible part of New York City's history and of the Coney Island community," said Congressman Hakeem Jeffries. "Those classic wooden planks have witnessed New York legends ranging from Fiorello La Guardia and John Lindsay to David Dinkins – as well as millions from around the world who came to visit the greatest city in the world. Replacing them now would be akin to knocking down the Empire State or Chrysler Building. We cannot allow this treasured part of New York to be wiped away. Council Member Treyger and all involved should be commended for their leadership in this effort."
"The Coney Island boardwalk is a living piece of history that deserves landmark designation," said City Comptroller Scott M. Stringer. "I applaud Councilmember Mark Treyger for leading this effort to ensure that the boardwalk is sustainable for future generations. The Landmarks Preservation Committee should act now to preserve the local culture of Coney Island and Brighton Beach by landmarking the Riegelmann Boardwalk."
"For nearly a century, the Riegelmann Boardwalk has offered families and children a pathway to the carnival of Coney Island, connecting generations of memories," said Brooklyn Borough President Eric L. Adams. "The same wooden walkway that inspired writers such as Isaac Bashevis Singer and Neil Simon still inspires millions of people who enjoy its unique character. By designating the Riegelmann Boardwalk as a scenic landmark, we will protect for future generations an institution that defines Brooklyn as a destination unlike anywhere else in the world, honoring the legacy of former Borough President Edward J. Riegelmann, who in 1922 opened the path to the public."
"The Coney Island boardwalk is an iconic figure in the south Brooklyn community and I commend Councilmen Mark Treyger and the other elected officials for their efforts in trying to protect this historic entity for the enjoyment of our constituents for years to come," Senator Diane Savino said.
"The Rieglemann Boardwalk is an integral part of Coney Island's rich history and traditions. As a Coney Island native, the boardwalk has always been a symbol of summers spent with family, and I know how much meaning it holds for the community," said Assembly Member Pamela Harris. "Preserving the Boardwalk will ensure that it remains an attraction for tourists and locals alike."
"Coney Island's historic Boardwalk is endangered, and if nothing is done, it will soon be transformed into an ugly concrete sidewalk," said Charles Denson, director of the Coney Island History Project. "The Boardwalk needs recognition, care, and respect in order to preserve and protect it. That process begins with Council Member Mark Treyger's call for official landmark status. We must act now, or we will lose a world-famous community asset."
"The powerful message being sent by the virtually unanimous support of the NYC Council, Public Advocate James, and other estimable public officials, of the resolution introduced by Councilman Mark Treyger, and co-sponsored by Councilman Chaim Deutsch, is that the NYC Landmarks Preservation Commission do what is right by the Coney Island Boardwalk, a de facto landmark, and grant it the official recognition and protections it deserves," said Rob Burstein, president of the Coney-Brighton Boardwalk Alliance. "We are hopeful that with the overwhelming support for landmark status from both the people and their elected representatives, and because by every definition of what a landmark is, it is so deserving of this appellation, they will finally grant it the official status it so richly deserves, and protect this New York City jewel for the generations of New Yorkers yet to come!"