Iconic Feltman's Hot Dogs Now Sold Locally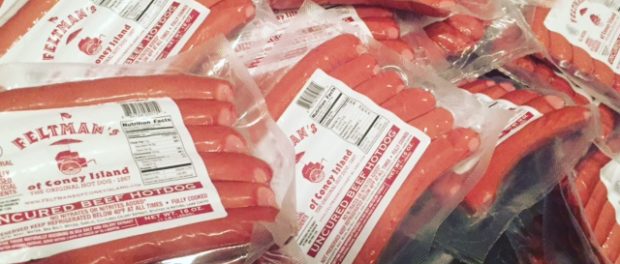 Described by online news site Gothamist as "most likely the best hot dog you'll ever eat in your life," the iconic Feltman's of Coney Island hot dogs debuted in two Brooklyn stores this past week.
Brenmans Meat Market and the Beach Deli both located on Gerritsen Ave. now officially carry the coveted historic brand which retails at around $12 per 6 pack.
Many popular hot dog brands like Nathan's Famous, Sabrett and Boars Head have nitrates that can trigger cancer especially in young children. Feltman's hot dogs have no nitrates or chemicals added and are completely safe to eat. Parents happily feed Feltman's hot dogs to their children.
150 years ago the brand's founder German immigrant Charles Feltman invented the hot dog in the sand dunes of Coney Island, NY. His restaurant billed as the largest in the world was selling 40,000 of these hot dogs a day from 9 grilling stations. Polish immigrant Nathan Handwerker was an employee at Feltman's restaurant before opening Nathan's Famous down the block selling a cheaper version of Feltman's higher quality invention.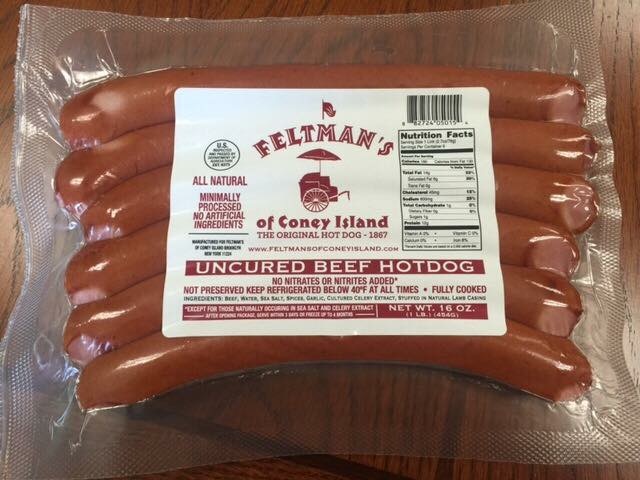 Feltman's restaurant in Coney Island went out of business 63 years ago, replaced by the now extinct Astroland Park.
Besides being sold in two stores in Gerritsen Beach, Feltman's hot dogs can be purchased and delivered to 21 states via FeltmansofConeyisland.com.
There is a hot dog spot at 80 St. Mark's Place in the East Village called Feltman's Kitchen which serves the historic Franks that New York Magazine called the best hot dog in NYC. The legendary wieners are also sold at Mikey's Burgers on Ludlow St. and at Hudson Station near Madison Square Garden.
Of course you can't rule out the possibility that Feltman's may return to Coney Island.