Feltman's big return to Coney Island replacing Cyclone Cafe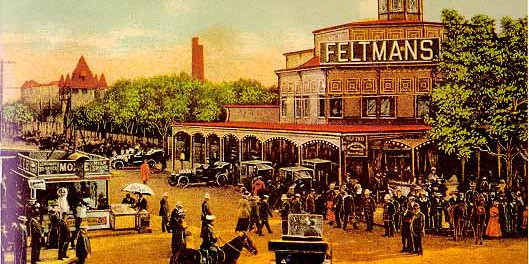 Feltman's Restaurant will once again be sharing the same corner with the Cyclone Rollercoaster!
According to a press release by Luna Park today  "The original hot dog has returned to Coney Island and at its exact location on Surf Ave. and West 10th St. Named after Charles Feltman, the inventor of the hot dog as well as the restaurant from 1870-1954."
After a 63 year absence the iconic Feltman's of Coney Island is returning home to where founder Charles Feltman invented the hot dog and where a bun slicer named Nathan Handwerker worked before opening Nathan's Famous down the block.
A soft opening is planned for Feltman's on Sunday, April 9th after the Cyclone opening when the famous franks will be served to the press at an event hosted by Luna Park.
Feltman's of Coney Island Restaurant will be replacing the Cyclone Cafe as well as the White Castle on W.10th and Surf Ave. The same location in which it held court for over 80 years! There will also be a Feltman's hot dog kiosk located inside Luna Park. The grand opening is being planned for Memorial Day weekend when the corner of Surf and W.10th will be completely renovated with Feltman's iconic marquee signage!
Feltman's of Coney Island, LLC owner Michael Quinn has worked out a licensing agreement with Luna Park to bring the legendary name back to Coney Island which includes his company investing in the new signage and supplying the park with Feltman's of Coney Island brand hot dogs. Quinn will also train the staff in how to prepare the original Coney Island hot dog.
In addition to the 90th anniversary of the Cyclone Rollercoaster Luna Park will be celebrating 150 years of the hot dog which was invented by Charles Feltman at Coney Island in 1867. Back in 1967 Nathan's Famous on Surf Ave. had an event celebrating 100 years of Feltman's famous invention.
Feltman's of Coney Island will be producing two versions of the hot dog which Gothamist proclaimed as "NYC's Best Hot Dog." The original is a large all beef uncured hot dog with natural casing with the secret Feltman's spice blend. The second smaller skinless version is also made without added nitrates same spice blend and will be sold for kids.
Feltman's return started nearly two years ago at Ditmas Park's Sycamore Flower Shop, then a weekly pop up at LES' Parkside Lounge.
One afternoon last summer Feltman's of Coney Island hot dogs were sold for 10c at Steeplechase Beergarden commemorating the original price of the hot dog a century earlier in 1916.
Currently Feltman's of Coney Island has a highly renowned location at 80 St. Mark's Place in the East Village called Feltman's Kitchen, next to the Museum of the American Gangster and the William Barnacle Tavern. Celebrity hot dog eating champ Kobayashi is a huge fan of the Feltman's frank comparing it to "eating steak!" after visting the popular East Village location two weeks ago.
The new location at Coney Island will be serving the very popular Al Capone hot dog which Quinn invented himself while working at Feltman's Kitchen on St. Mark's Place. The Al Capone is a Feltman's hot dog with Michael's of Brooklyn vodka sauce sprinkled with Parmesan cheese. Al Capone used to supply booze to the former speakeasy now called the William Barnacle Tavern located adjacent to Feltman's Kitchen in the East Village. According to a biography the Brooklyn born Capone used to nosh down on Feltman's hot dogs before working at the notorious Harvard Inn at Coney Island. The Harvard Inn was the place where he received the famous scar on his face.
Feltman's of Coney Island hot dogs are also served at Mikey's Burgers on LES as well as Hudson Station near Madison Square Garden. Locally the Beach Deli and Brenman's Meat Market on Gerritsen Ave have been routinely selling out the famous franks.
The hot dogs can also be purchased online and shipped around the country at FeltmansofConeyIsland.com