FREE Feltman's Hot Dogs for Memorial Day Opening!
Hot Dog inventor Feltman's officially returns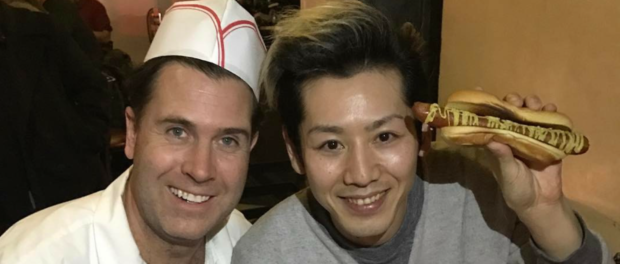 On Memorial Day Monday, May 29th Feltman's of Coney Island officially returns to it's original location after 63 years by giving away 150 free hot dogs! 150 represents the years since German immigrant Charles Feltman invented the hot dog at Coney Island, NY.
A press conference will be taking place outside Luna Park at 11:45am. At 12pm the first 150 people on line will receive one free original hot dog courtesy of Feltman's of Coney Island. By Memorial Day the Surf Ave location will be adorned with new signage inside and out. The new Surf Ave. location will be operating during the same hours as Luna Park. Valerio Ferrari President of C.A.I. and Luna Park says" we are thrilled to bring a part of Coney Island history to Luna Park as it's the perfect fit."
In 1867 Charles Feltman invented the hot dog at Coney Island. By the 1870's Feltman's Oceanside Pavilion was the largest restaurant in the world! In 1915 Nathan Handwerker was a bun slicer at Feltman's Restaurant before opening his own hot dog spot down the block selling a tasty but smaller knockoff of Feltman's original at half the price. Now you have the opportunity to enjoy the mother of all hot dogs! The original! Feltman's of Coney Island hot dogs are all natural with an "Old World" German spice blend and no nitrates added in lamb casing. They have an incredible snap!
Feltman's has a location at 80 St. Mark's Place in the East Village. Feltman's hot dogs are sold in Brooklyn at Brenman's Meat Market and the Beach Deli both on Gerritsen Ave. In Queens at Deirdre Maeve's Market in Breezy Point. Feltman's hot dogs may be shipped across the country via the online store FeltmansofConeyIsland.com.
Just last week Feltman's hot dogs were added to the menu at Mc Sorley's Old Ale House in Manhattan. The first time the historic tavern has altered the menu in over 50 years! Mikey's Burgers on Ludlow St. on the Lower East Side also carries the iconic franks.
Feltman's biggest fan is most likely eating Champ Kobayashi who can occasionally be found at Feltman's Kitchen (East Village) at 80 St. Mark's Place in the East Village scarfing down a Feltman's original or an Al Capone Hot Dog named after the famous mobster who would frequently fill his belly at Feltman's. Kobayashi said eating Feltman's hot dogs is "as good as eating steak!"
So come celebrate Feltman's long awaited return with a free hot dog as well as the 90th anniversary of the Cyclone Rollercoaster on Memorial Day.
* Also on Memorial Day Feltman's of Coney Island will be donating hot dogs for a fundraiser BBQ to save Sunny's Bar in Red Hook, Brooklyn. The event will take place at Sunny's Bar.