Free Feltman's Hot Dogs for Cyclones' Birthday!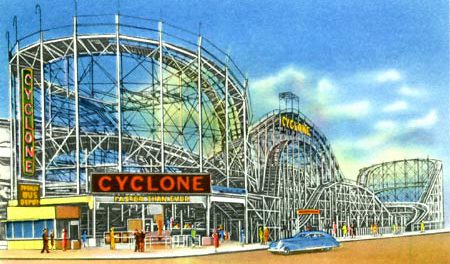 The Cyclone Rollercoaster is turning 90 on Monday, June 26, the festivities start the day before with a block party featuring live music and the Harlem Globetrotters.
A press conference will be taking place on Monday, June 26th 11:30 am at the Cyclone Rollercoaster followed by a Feltman's hot dog giveaway! To celebrate 90 years of the Cyclone Feltman's of Coney Island will be giving out 90 free hot dogs following the press conference.
Feltman's restaurant and the Cyclone shared the same corner as neighbors for decades. Here are some facts about both:
Feltman's
Charles Feltman invented the hot dog at Coney Island, NY in 1867. This is the 150th anniversary of the hot dog.
Feltman's Restaurant (1870-1954) located at the current Luna Park property was once the largest restaurant in the world.
Nathan Handwerker was a bun slicer at Feltman's in 1915. Fellow Feltman's employees and future movie stars Jimmy Durante and Eddie Cantor gave Handwerker a $300 loan to open Nathan's Famous down the block in 1916. Handwerker undercut his former employer selling 5c hot dogs to Feltman's 10c.
Feltman's has returned to it's original Coney Island location after 63 years. There is a second location at 80 St. Mark's Place in the East Village.
The Feltman's hot dog is all beef all natural with no nitrates added and the secret Feltman's "Old World Frankfurt" spice blend.
Feltman's of Coney Island has been named the absolute best hot dog in NYC by many publications including New York Magazine and Gothamist. The NY Post rated Feltman's the best hot dog in Coney Island over rival Nathan's Famous.
Cyclone Rollercoaster
Opened 1927
Type – Wooden Twister
Location – Surf Avenue & West End Street
Builder & Designer – Vernon Keenan / Baker
Height – 85 feet
Length – 2640 feet (ride length 1 min 50 sec)
This roller coaster masterpiece cost Jack and Irving Rosenthal $100,000 to build, but it returned their investment within weeks after it debuted on June 26, 1927. It was a fast twister coaster set in a figure 8 design.
The world's first rollercoaster was built on the current footprint of the Cyclone by L.A. Thompson in 1884. Thompson's original patent read for Switchback Railway Rolling Coaster.
Aviator Charles Lindbergh said riding the Cyclone was more thrilling than flying the Atlantic.
A mute man was was able to speak after riding the Cyclone. His first words were " I feel sick."
Enjoy a happy birthday ride on the Cyclone on Monday June 26 followed free Feltman's hot dogs at the Luna Park location.