Child's Restaurant Revived!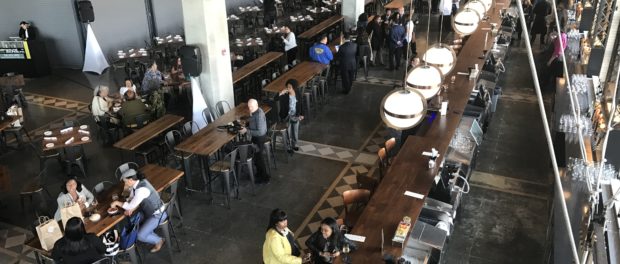 Yesterday afternoon guests attended a ribbon cutting ceremony and tasting preview at the refurbished landmarked Child's Restaurant on the Boardwalk. The restaurant live music venue now called Kitchen 21 sampled plenty of food including pork, oysters, and pizza.
The front of the building has a casual cafeteria like setup for beach goers while the back has a more formal atmosphere where guests can take in a live show.
The bar stretches practically the entire side of the building serving everything from craft beer to mixed drinks and egg creams.
Next to the staircase leading to the roof there is a seat dangling that use to be a part of the legendary Parachute Jump at Steeplechase Park.
The roof is something you need to see in person with it's bar and casual seating . The view of the boardwalk and ocean is breathtaking!
Kitchen 21 officially opens this Sunday, May 21 at 10am.