Is a Hot Dog a Sandwich? Vote here!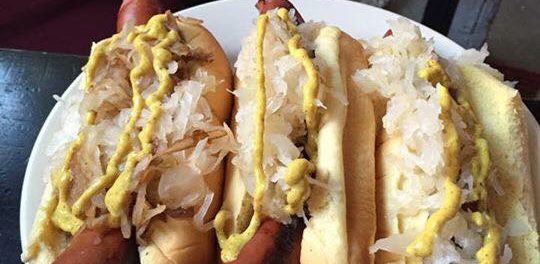 Is a hot dog a sandwich? In the past some people have referred to hot dogs as Frankfurter Sandwiches.
Let's look at the history of the sandwich. The sandwich is attributed to John Montagu, the Earl of Sandwich. Back in the 18th century the British statesman ordered that he have meat tucked between two pieces of bread. Just like that the sandwich was born!
Now what if the meat is placed inside one piece of bread? The history of the hot dog is a bit more complex. Sausages have existed for centuries. Even mentioned on Homer's Epic Poem "The Odyssey." However the hot dog is a very American concept born in Coney Island, NY.
After the Civil War Coney Island was quickly becoming America's premiere resort town.
The year was 1867. A German born baker was selling pies from a cart along the sand dunes of Coney Island. He had a desire to sell more of a lunch meal to the Coney Island crowds. So he used elongated breakfast buns from his South Brooklyn bakery, sliced them open to snuggle Frankfurt sausages from his homeland inside. His name is Charles Feltman, in 1867 he invented the hot dog. It was an Irishman named Donovan who, at his Howard ave. shop converted Feltman's pie cart to the world's first hot dog cart. However, was Feltman's invention considered a sandwich?
Feltman went on to build what was billed as the largest restaurant in the world in Coney Island. Also a second restaurant on 5th st. in Park Slope, Feltman's Tivoli which fell victim to fire in 1895. By that time Feltman's invention had reached Chicago in the form of a Vienna Sausage. Chicagoans began to create sandwich-like toppings on their hot dogs.  Pickles, peppers, like a salad. But a sandwich?
Feltman's invention helped ballpark concessionaire Harry Stevens fill the hungry bellies of baseball fans in 1901. Probably the first time Feltman's Red Hots were referred to as hot dogs. However, not quite a sandwich.
Around 1914 Greek Immigrants in Michigan began selling hot dogs in restaurants called Coney Island's, name after the famed New York resort and birthplace of the hot dog. They began pouring chili, onions and cheese on top of the franks. Does this finally make it a sandwich?
The following year Nathan Handwerker was a bun slicer at Feltman's Restaurant in Coney Island which was selling 40,000 sandwiches or hot dogs per day from 9 grilling stations. In 1916 he opened his own stand selling Feltman's hot dogs for 10c. Handwerker found a Brooklyn manufacturer called Swift and Co. which had showcased their modern hot dog making machinery at numerous World's Fairs. Swift's machinery could crank out mucho hot dogs at low cost. Not the same quality as Feltman's; however, Swifts produced very tasty, garlicky franks that sat very well with the working class Coney Island crowd. Handwerker could afford to sell  Swifts in great quantity for a nickel. After a few years Handwerker switched to the ubiquitous Hygrade hot dogs, the top brand at the time. Was it called a sandwich? No, Handwerker called them Frankfurters.
Now the New Jersey style of hot dogs starts it's story at Rutt's Hut in 1928. Not the healthiest hot dog but a deep fried Thumann's is quite tasty. Along with Texas Wieners. Rutt's Hut was rated #1 in the country by the Daily Meal along some NYC favorites Katz Deli #3, Grays Papaya #8 both made by Sabrett and the debut of Feltman's of Coney Island #7 can a deep fried hot dogs at Rutt's be considered a sandwich? What do you think?
Charles Feltman's original hot dogs have returned this past year to St. Mark's Place in the East Village as well as the restaurant's original loaction (Luna Park), the hot dog's birthplace in Coney Island. Like Katz Deli there is a national online store FeltmansofConeyIsland.com. But nowhere is it referred to as a sandwich.
So let the people decide!
Vote for whether you think a hot dog is considered a sandwich.
On January 1st 2018 we'll make the deciding announcement at Coney Island, Brooklyn.
The birthplace of the hot dog!
So vote now and stay tuned!

Loading ...