Theatre Historian Cezar Del Valle Takes the Stage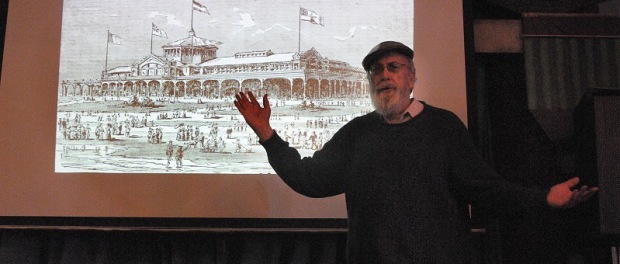 By Michael Quinn
On a frigid Saturday afternoon theatre historian/tour guide and author Cezar Del Valle spoke before a full audience at Coney Island USA's newly heated upstairs museum. Coney Island USA Artistic Director, Mr. Dick Zigun introduced Mr. Del Valle after indicating that he was pleased with the turnout as well as the fact that the upstairs room was now comfortably snug.
Mr. Del Valle's journey brought us back through nearly 175 years of live theatre and entertainment  in Coney Island starting at Norton's Point and occasionally stopping off at places along the way like the extravagant theaters of Brighton Beach, West Brighton, and Manhattan Beach. The detailed projected images conveyed the carnival atmosphere of cabarets, hotels and saloons adorning the early 20th century Coney Island Bowery. Staged disasters such as the the Galveston Flood and The Last Days of Pompeii were also discussed.
Mr. Del Valle told us how the once glitzy and grandiose Loews Theater would provide a live show, movie, newsreel and much more for the price of only one ticket! Amusingly, jazz playing Siamese twins were a commercial failure for not being bizarre enough for Coney Island. They were outdone by the boy with elephant ears.
Mr. Del Valle's eloquent and light hearted lecture provided a fascinating insight into the profound history of the theaters of Coney Island. His presentation highlighted his new book, (click here) The Brooklyn Theatre Index Volume III, Coney Island Including Brighton Beach and Manhattan Beach.
Mr. Zigun asked Mr. Del Valle if Sideshows by the Seashore would be featured in Volume IV. We'll have to wait and see; however, for now I encourage you to obtain a copy of Volume III. I have my copy. It's signed.