Ruby's boardwalk makeover for new Woody Allen film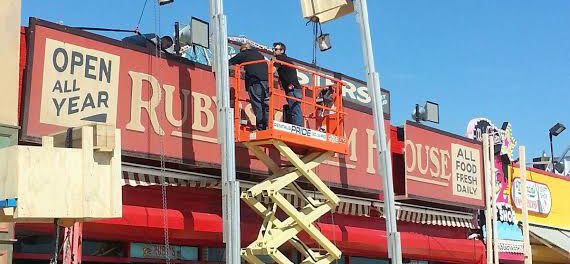 After being delayed one week Woody Allen's new film is just about ready to roll at Coney Island, with a slightly altered Ruby's Bar and Grill in a cameo scene. Say hello to Ruby's Clam House! All food fresh daily! The film crew hoisted the temporary throw back sign above Ruby's this morning.
They even created a sign for the former Stauch's Bathhouse (will hang over Lola Star Boutique), we remember first hand seeing it being demolished back in the winter of 92′. Stauch's was one of the bathhouses managed by Ruby Jacobs before he opened Ruby's Bar and Grill in 1975. Stauch's Bathhouse also had the iconic grafitti featured in the cult film classic "The Warriors."
Traditionally Woody Allen keeps his films' plot lines under wraps until release time; however, one of the films stars "spilled the beans" to the Coney Island Blog last week about the films' basic premise.
The film's star Kate Winslet plays a character that is being targeted by a character played by former Soprano's star Tony Sirico, aka Paulie Walnuts. Kate Winslet's character falls in love with a Coney Island lifeguard portrayed by Justin Timberlake.