New Required Coney Island Reading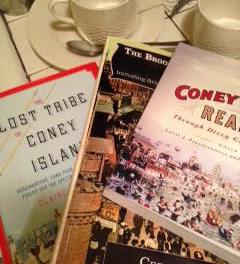 Within the past couple of months three books about Coney Island's unique and storied history were released. Of the three books two authors were featured as guest bloggers on TheConeyIslandBlog.com.
The first book is Claire Prentice's sobering documentation of the exploitation of the Igorrote people in Coney Island (The Lost Tribe of Coney Island, New Harvest). Read Ms. Prentice's riveting blog post here.
The second book (A Coney Island Reader, Columbia) is a collection of poems, stories and essays by such notables as Walt Whitman, Jose Marti, Stephen Crane and Maxim Gorky among many others. Read author Louis J. Parascandola's blog post here.
Cezar Del Valle (The Brooklyn Theatre Index, Volume III) released a revealing index of the History of Coney Island's Theaters. Read blog post here.